As in legacy 3GPP technologies, the UE starts connection by issuing a Radio Resource Control (RRC) Connection Request. Note that while either the UE or the network can trigger the connection request, it is always initiated
by the UE. This request includes both the UE identity information and the call establishment cause (i.e.Mobile Originating Signaling or Emergency). Assuming there are no issues, the network responds with an RRC Connection Setup message.
The procedure thus far has established a signaling bearer and a Dedicated Control Channel (DCCH). Once in RRC Connected mode, the UE responds by sending an RRC Connection Setup Complete message which includes the Attach request for PDN connectivity. While this part of the connection is familiar to those versed in 3G technologies, it is worth noting that at this point, unlike in a legacy UMTS system, the initial NAS message has already been delivered to the Mobility Management Entity (MME). In the case of a VoLTE call this message would be an Attach Request.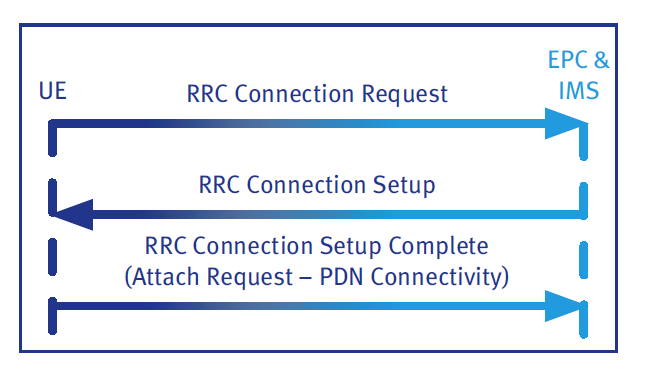 Back to IMS Procedures
Source: IMS Procedures and Protocols: The LTE User Equipment Perspective by Spirent