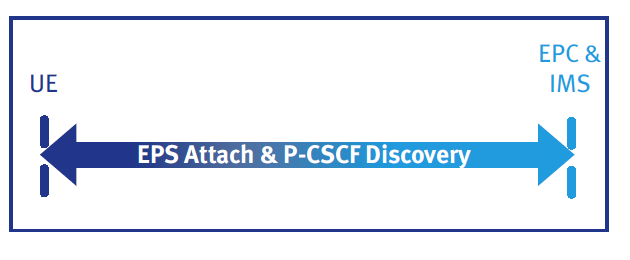 Before sending any Session Initiation Protocol (SIP) requests, the UE must perform "P-CSCF Discovery", the process of identifying (by address) the correct Proxy-Call Session Control Function (P-CSCF). The P-CSCF address
may be discovered in one of three different ways:
It may be stored in the IP Multimedia Services Identity Module (ISIM).
The UE may request it as part of the PDN connectivity request during the Attach process.
The UE may request an IP address and Fully Qualified Domain Name (FQDN) from a DHCP server and then perform a DNS query on the returned IP address and FQDN.
The next part of the procedural flow includes IMS Registration, Event Subscription and Call Connection and utilizes key IMS protocols. For a detailed explanation of these protocols, please refer to the "IMS Protocols" and "Sample Call Flows" sections in this document.
Back to IMS Procedures
Source: IMS Procedures and Protocols: The LTE User Equipment Perspective by Spirent