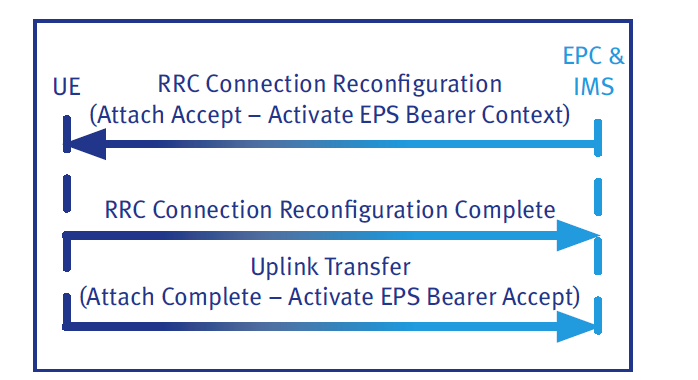 At this point, additional radio bearers must be set up. The network sends an RRC Connection Reconfiguration to activate the EPS bearer. The UE confirms successful completion with an RRC Connection Reconfiguration
Complete message and then finalizes the Attach procedure and accepts the activation of the EPS bearer.
It should be noted that the way a default PDN is associated to an IMS device varies per the network operator. In some networks, powering on a device will cause it to attempt to establish a connection with an Internet PDN. In
this case the device will only establish IMS connectivity when an IMS application needs to be serviced. A device used on another network will, on powering up, attempt to establish a connection with an IMS PDN, and display a "No Service" message if the connection is not made.
Back to IMS Procedures
Source: IMS Procedures and Protocols: The LTE User Equipment Perspective by Spirent